This teaching was given at Tushita Mahayana Meditation Centre, New Delhi, on October 31, 1979. First published in Teachings at Tushita, edited by Nicholas Ribush with Glenn H. Mullin, Mahayana Publications, New Delhi, 1981. Now appears in the 2005 LYWA publication Teachings From Tibet.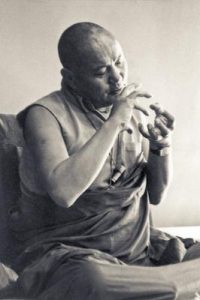 Making Dharma practice effective
The antidote to delusion, ego and every other problem we face is the wisdom of Dharma; Dharma wisdom provides the deepest solution to every human problem. Whoever has problems needs Dharma; Dharma wisdom is the light that eliminates the dark shadow of ignorance, the main source of all human afflictions.
Dharma philosophy is not Dharma; doctrine is not Dharma; religious art is not Dharma. Dharma is not that statue of Lord Buddha on your altar. Dharma is the inner understanding of reality that leads us beyond the dark shadow of ignorance, beyond dissatisfaction.
It is not enough merely to accept Dharma as being true. We must also understand our individual reality, our specific needs and the purpose of Dharma as it relates to us as individuals. If we accept Dharma for reasons of custom or culture alone, it does not become properly effective for our minds. For example, it's wrong for me to think, "I'm Tibetan, therefore, I'm a Mahayanist." Perhaps I can talk about Mahayana philosophy, but being a Mahayanist, having Mahayana Dharma in my heart, is something else.
You may have been born in a Dharma country, in an environment where religion is accepted, but if you do not use that religion to gain an understanding of the reality of your own mind, there is little sense in being a believer. Dharma cannot solve your problems if you do not approach it pragmatically. You should seek Dharma knowledge in order to stop your problems, to make yourself spiritually healthy—in religious terms, to discover eternal happiness, peace and bliss.
We ourselves are responsible for discovering our own peace and liberation. We cannot say that some other power, like God, is responsible—if we do, we are weak and not taking responsibility for the actions of our own body, speech and mind. Buddhists understand that they are personally responsible for everything they do: it's in their own hands whether their actions are positive or negative. Therefore, although we might find ourselves in a religious environment—in India, Tibet or even the West—becoming religious is something else.
External cultural aspects do not indicate the presence of Dharma. Dharma is that which leads us beyond delusion, beyond ego, beyond the usual human problems. If we use it for such purposes we can say, "I'm practicing Dharma," but if we don't, there's little benefit in reciting even the most powerful mantras.
One of the most fundamental Buddhist teachings is to renounce samsara. That doesn't mean we shouldn't drink water when we're thirsty. It means that we must understand samsara such that even when we're caught in a samsaric situation, no karmic reaction ensues. The application of skillful method and wisdom is the real renunciation; as long as we have grasping and hatred in our mind, we have not renounced samsara.
You can change your clothes and shave your head, but when you ask yourself, "What have I really renounced?" you may find that your mind is exactly the same as it was before your external transformation—you have not stopped your problems.
That's why we call samsara a cycle; cyclic existence. We do things—we change, change, change, change—we enjoy the novelty of every change, but actually, all we're doing is creating more karma. Every time we do something, there's a reaction that makes our bondage in cyclic existence even tighter than it was before. That's samsara. To loosen this tightness we need the wisdom that illuminates the darkness of ignorance. It's not enough to think, "I am Buddhist; Buddha will take care of me"; "I am Christian; God will take care of me." Belief is not enough; we have to understand the reality of our own mind.
To this end, Lord Buddha taught many meditation techniques to wake us up from ignorance. First we have to understand our needs as individuals; according to Lord Buddha's teachings each of us has different needs. Usually we ignore these and, without discriminating wisdom, just accept whatever comes along. As a result, we end up in a situation from which we cannot escape. That is samsara.
Understanding ourselves
Moreover, it is important for us to recognize that even if right now some of our habits and attitudes are wrong, it's possible to change and transform them. Grasping at permanence makes us think that we're unchanging. This negative thought pattern is very strong and prevents us from developing or acting in a Dharma way. To help us overcome our wrong conceptions, Lord Buddha taught the four noble truths. [See His Holiness the Dalai Lama's teaching on the four noble truths.] As the first characteristic of the noble truth of suffering, he taught impermanence.
It is very important to understand impermanence. When we understand the impermanent nature of things, their non-stop change, we give ourselves the time and space to accept whatever situation comes along. Then, even if we are in a suffering situation, we can take care of ourselves; we can look at it without getting upset. Otherwise, our upset or guilty mind prevents us from waking from confusion, from seeing our own clarity.
Clarity always exists within us. The nature of our consciousness is clear. It is merely a question of seeing it. If you always feel dirty, negative and hopeless, as if you're somebody who could never possibly discover inner peace and liberation, you're reacting to a deluded, negative mind, a fixed conception. You're thinking beyond reality, beyond the nature of phenomena; you're not in touch with reality. You have to eradicate such preconceived ideas before you can cultivate tranquility and peace, before your intelligence can touch reality.
Check up right now. Ask yourself, "What am I?" "Who am I?" Even on the relative plane, when you ask yourself this you find that you're holding a permanent conception of your self of yesterday, the day before yesterday, last week, last month, last year…. This idea of the self is not correct. It's a preconception that must be broken down and recognized as unreasonable. Then you can understand the possibility of ceaseless, infinite development and spiritual growth.
The beauty of being human is that you can continuously develop inner qualities such as peace, the energy of the enlightenment experience and bliss and eventually transcend your dualistic mind. When you come to understand this inner beauty, you'll stop grasping at external objects, which can never bring eternal satisfaction. This is an important sign of spiritual progress. You cannot simultaneously be religious and grasp at material things; the two are incompatible.
We see people getting more and more confused and dissatisfied the more possessions they get until finally they commit suicide. Sometimes the poor don't understand this; they think that materially wealthy people must be happy. They are not happy. They are dissatisfied, emotionally disturbed, confused and immersed in suffering. Suicide rates are much higher in affluent societies than in economically undeveloped ones. This is not Dharma philosophy—this is present-day reality, our twentieth century situation; it's happening right now. I am not suggesting that you give up your material comfort; Lord Buddha never said that we have to give up our enjoyments. Rather, he taught that we should avoid confusing ourselves by grasping at worldly pleasures.
The underlying attitude that forces us to chase after unworthy objects is the delusion that causes us to think, "This object will give me satisfaction; without it life would be hopeless." These preconceptions make us incapable of dealing with the new situations that inevitably arise from day to day. We expect things to happen in a certain way and when they don't, we can't cope with them properly. Instead of handling unexpected situations effectively we become tense, frustrated and psychologically disturbed.
Developing our Dharma experience
Most of us are emotionally unstable, sometimes up and sometimes down. When life is going well we put on a very religious aspect but when things go bad we lose it completely. This shows that we have no inner conviction, that our understanding of Dharma is very limited and fickle.
People say, "I've been practicing Dharma for years but I've still got all these problems. I don't think Buddhism helps." My question to them is, "Have you developed single-pointed concentration or penetrative insight?" That's the problem. Simply saying, "Oh yes, I understand; I pray every day; I'm a good person" is not enough. Dharma is a total way of life. It's not just for breakfast, Sundays, or the temple. If you're subdued and controlled in the temple but aggressive and uncontrolled outside of it, your understanding of Dharma is neither continuous nor indestructible.
Are you satisfied with your present state of mind? Probably not, and that's why you need meditation, why you need Dharma. Worldly possessions do not give you satisfaction; you can't depend on transitory objects for your happiness.
When we refugees fled Tibet we left behind our beautiful environment and way of life. If my mind had been fixed in its belief that my happiness and pleasure depended solely upon being in the country of my birth, I could never have been happy in India. I would have thought, "There are no snow mountains here; I can't be happy." Mental attitude is the main problem; physical problems are secondary. Therefore, avoid grasping at material objects and seek instead an indestructible understanding of the ultimate nature of the mind.
Developing concentration and insight
Dharma practice does not depend on cultural conditions. Whether we travel by train, plane or automobile we can still practice Dharma. However, in order to completely destroy the root of the dualistic mind, a partial understanding of the reality of our own mind is not sufficient. Dharma practice requires continual, sustained effort; just a few flashes of understanding are not enough. To fully penetrate to the ultimate reality of our own mind, we have to develop single-pointed concentration. When we have done so, our understanding will be continuous and indestructible.
Lord Buddha's teachings on single-pointed concentration are very important because they show us how to transcend worldly conceptions. However, single-pointed concentration alone is not enough. We have to combine it with penetrative insight. What's the difference between the two? First we develop single-pointed concentration, which leads us beyond worldly emotional problems and gives us a degree of higher satisfaction. But a certain amount of darkness remains in our mind. In order to reach the depths of human consciousness we also have to cultivate penetrative insight, which is the only thing that can lead us totally beyond the dualistic view of all existence. From the Buddhist point of view, the dualistic way of thinking is the real conflict. Meditative concentration can bring us a certain degree of peace, but if the dualistic view remains, we still have conflict in our mind.
The object of insight meditation, the experience of emptiness, is realization of non-duality, where the flashing of sense objects and images disappears and we experience the total unity of absolute reality. There's a difference between the experience of emptiness and its philosophy. Philosophically speaking, sense objects exist, sense pleasures exist, and there's a relationship between the senses and the external world. But in the experience itself, there is no awareness of a duality, no perception of the sense world, and no sense of conflict to irritate the mind. Normally, whenever we perceive objects in the sense world, we see two things: we perceive the thing itself and immediately compare it with something else. Society is built on the dualistic mind. Eventually it comes down to, if my next door neighbor gets a car I'm going to want one, too. Two forces are at work, and one becomes the reason for the other.
From the Buddhist point of view, any information received through the five sense consciousnesses is always distorted by dualistic grasping. It's like an optical illusion. It registers in our consciousness and we believe that what we're seeing is true. Actually, it's an unreal distortion and it gives birth to every other delusion.
Consequently, the Buddhist attitude towards data received through the five sense consciousnesses is one of mistrust. You cannot rely on the judgments of good and bad that come through your senses—they always give you a dualistic, distorted impression. You're be better off going around with your eyes closed!
Anyway, always question and be critical of the information that comes in through your senses. That's the way to eventually transcend ordinariness, karmically-created actions and the inevitable reactions of dissatisfaction.
Q. Are you saying that we are able to fully realize emptiness?
Lama. Definitely! How? By examining the nature of your own mind, repeatedly asking yourself, "What am I?" "Who am I?" Eventually, you'll come to see the falseness of your instinctive ego-model and how it projects itself into your life, causing you to misinterpret every experience you have. When you discover this wrong view, you're close to understanding emptiness. Until you discover how ego-grasping works within you, realization of emptiness is a long way off.
Q. What is the relationship between emptiness and consciousness?
Lama. Consciousness is not emptiness. But when you understand the nature of consciousness, the clarity of mind, you have an experience very similar to that of the perception of emptiness. Therefore, in the Tibetan tradition of Mahayana Buddhism, we emphasize contemplating your own consciousness as a preliminary leading to the experience of absolute emptiness.
Q. You spoke of sensory awareness disappearing in the experience of emptiness. How can we perceive the world without the five sense consciousnesses?
Lama. Well, there are both absolute and relative worlds. In the beginning, you meditate on the nature of the relative world and this then becomes the method by which the absolute is discovered. Look at the sense world but don't be entranced by it. Be constantly analytical, always checking to see that your perception is clear and free from ego-based exaggeration. Relative reality is not the problem; the problem is that in your perception of things, you exaggerate and distort the various aspects of an object. Therefore, you must continually question your experience. You can't simply say, "It's right because I saw it and wrong because I didn't." You have to go deeper than that.
Q. When you put a question to your mind, to whom do you put the question?
Lama. When you question your own consciousness, you question your wrong conceptions, your belief in nonexistent entities. When you see a red glass, you recognize it as a red glass, but inside you raise doubts: "Maybe it's red, maybe it's white." Whenever you question, answers come. Usually we just accept whatever happens without question. As a result, we're deluded and polluted. To question is to seek, and the answer lies within you. We feel that our consciousness is small, but it is like a mighty ocean in which everything can be found. When I talk you may think, "Maybe this lama will give me some realization," but there is no realization to give. To talk about Dharma is to throw switches here and there, hoping to wake people up. Belief in Buddha, Krishna or whomever is not enough; you must take responsibility for your own body, speech and mind. We all have a certain degree of wisdom; this must be cultivated. All religions use bells—Buddhism and Hinduism included. The bell symbolizes wisdom. At the moment, the bell of wisdom is lying unused within us. The ring of the ritual bell is a reminder: "Use your wisdom!"
Q. Admittedly we should not be overly passive in our responsibilities, but sometimes taking karmic responsibility seems to heighten our sense of ego. There seems to be a choice between responsibility and outward energy as opposed to passive, inner wisdom.
Lama. Intellectually, we understand that there are Buddha, Dharma and Sangha. This is positive. Buddha is OK; Dharma is OK; Sangha is OK. But what is Buddha to me? When I totally develop myself, I become buddha; that is my buddha. Shakyamuni Buddha is his buddha, not mine. He's gone. My total awakening is my buddha. How do you awaken to your own buddha? The first step is simply to be aware of the actions of your body, speech and mind. Of course, you should not be egotistical about it, thinking, "Buddha and Dharma are OK, but I don't care about them—I am responsible." And also you should not have pride: "I am a meditator." The whole point is to eradicate the ego—don't worry about whether you are a meditator or not. Just put your mind in the right channel, don't intellectualize, and let go. Your question is very good: we have to know how to deal with that mind. Thank you.
Q. You said that suicide rates are higher in the West than in the East. But it is also true that death from starvation is commoner in the East than in the West. It seems to be instinctive for the Easterner to renounce whereas materialism appears to be natural for Westerners. So may I suggest, skeptically, that renunciation has led the East to poverty while materialism has brought the West to affluence?
Lama. That's also a very good question. But remember what I said before: renouncing this glass does not mean throwing it away, breaking it or giving it to somebody else. You can eat your rice and dhal with a renounced mind. It's very important for you to know that.
It's true that most Eastern people are culturally influenced by their religious tenets. For example, even when we are three or four years old, we accept the law of karma. Then again, most Eastern people also misunderstand karma. Somebody thinks, "Oh, I'm a poor person, my father is a sweeper—I too have to be a sweeper." "Why?" "Because it's my karma—it has to be that way."
This is a total misconception and has nothing to do with the teachings of either Hinduism or Buddhism; it's a fixed idea totally opposite to the nature of reality. We should understand, "I'm a human being—my nature is impermanent. Maybe I'm unhappy now, but I'm changeable—I can develop within myself the mind of eternal peace and joy." This is the attitude we should have.
The incredible changes we see in the world today come from the human mind, not from the world itself; the affluence of the materialistic West comes from the Western mind. If we Easterners want our standard of living to equal that of the West, we can do it. At the same time, however, we can have renunciation of samsara.
In order to develop renunciation, you have to understand the actual value of material goods and their relationship to happiness. Most Westerners grossly exaggerate the value of material things. They are bombarded with advertisements: "This [object] gives you satisfaction"; "That gives you satisfaction"; "The other gives you satisfaction." So they become psychologically convinced, "I must buy this, I must buy that, otherwise I won't be happy." This conviction leads them to the extreme of materialism—and ultimately to suicide. Similarly, Easterners misconceive the teachings of religion and fall into the extreme of passivity, laziness and apathy: "Karma—it's my karma."
Q. What is the difference between moksha and nirvana?
Lama. There are several levels of moksha, or liberation. One of these is nirvana, which is beyond ego and is endowed with everlasting peace and bliss. Higher than nirvana is enlightenment, which is sometimes called the "great nirvana" and is the fruition of bodhicitta, the determination to reach enlightenment for the sole purpose of enlightening all the infinite sentient beings. You can lose interest in samsara, undergo spiritual training and attain nirvana, but you have yet to develop bodhicitta and realize full enlightenment.
Q. You spoke about non-duality. Do love and hate still exist in that state?
Lama. The experience of non-duality itself is in the nature of love. The emotional tone of love is lower during meditative absorption on non-duality but its nature is essentially present. Most people's love is biased and dualistic. Love characterized by non-duality feels no partiality. The lam-rim teaches us to meditate on how every single sentient being—including animals, birds, fish and insects—has repeatedly been a mother to us in our infinite previous lives. Moreover, without exception, they all want happiness and seek to avoid suffering. If we meditate and expand our objects of knowledge, we'll come to know the nature of other beings and our love will become vast.
Q. Nirvana seems to be a duality because it implies non-nirvana.
Lama. Linguistically, this is true. If we label something "nirvana," we create an entrance for the label "non-nirvana." But in the minds of those perceiving non-duality, there are no labels. They just experience nirvana and let themselves go into it.
Q. I always visualize nirvana as the LSD experience.
Lama. Then I guess there's not much nirvana, here in the East.