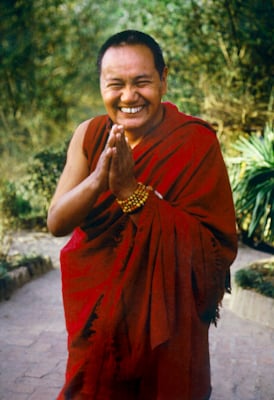 Lama Thubten Yeshe was born in Tibet in 1935. At the age of six, he entered the great Sera Monastic University, Lhasa, where he studied until 1959, when the Chinese invasion of Tibet forced him into exile in India. Lama Yeshe continued to study and meditate in India until 1967, when, with his chief disciple, Lama Thubten Zopa Rinpoche, he went to Nepal. Two years later he established Kopan Monastery, near Kathmandu, in order to teach Buddhism to Westerners.
In 1974, the Lamas began making annual teaching tours to the West, and as a result of these travels a worldwide network of Buddhist teaching and meditation centers—the Foundation for the Preservation of the Mahayana Tradition (FPMT)—began to develop.
In 1984, after an intense decade of imparting a wide variety of incredible teachings and establishing one FPMT activity after another, at the age of forty-nine, Lama Yeshe passed away. He was reborn as Ösel Hita Torres in Spain in 1985 and recognized as the incarnation of Lama Yeshe by His Holiness the Dalai Lama in 1986. For more information about Tenzin Osel Hita see the FPMT website.
To continue reading Lama Yeshe's biography go here.
---
Thousands of pages of Lama's teachings have been made available as transcripts, books and audio by the Lama Yeshe Wisdom Archive, and most are freely available through the Archive's website. Other teachings have been published by Wisdom Books, including Wisdom Energy; Introduction to Tantra; Becoming Vajrasattva and more, available at www.wisdompubs.org.
The Archive has also released a number of DVDs of Lama Yeshe.
View a photo montage on YouTube of Lama Yeshe and Lama Zopa Rinpoche prepared by David Zinn for the 2009 Parliament of World Religions.
Read excerpts from the upcoming biography of Lama Yeshe, Big Love to be published soon by the Archive. For more information about Lama's life, see Lama's page on the FPMT site.
Read A Tribute to Lama Yeshe compiled after his death in 1984 and published in Wisdom Magazine.
You can read a selection of talks from Tenzin Osel Hita here.
_______________________________________________________________________________________
Teachings from Lama Thubten Yeshe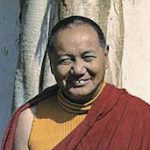 An introductory teaching on karma given by Lama Yeshe at Chenrezig Institute, Queensland, Australia, on 28 June 1976.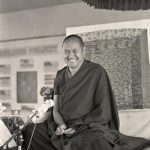 Lama Yeshe discusses the real meaning of Dharma and the nature of the mind in this discourse given at Chenrezig Institute, Eudlo, Australia, on September 8, 1979.
Lama Thubten Yeshe clarifies dharma practice and the role of the mind, New Delhi, India, October 31, 1979.