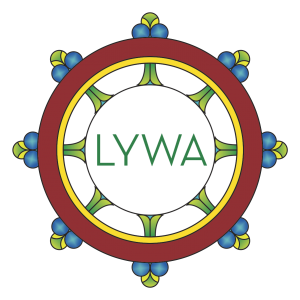 The Lama Yeshe Wisdom Archive (LYWA) is the collected works of Lama Thubten Yeshe and Lama Thubten Zopa Rinpoche, its spiritual director, who founded the Archive in 1996.
LYWA is affiliated with the Foundation for the Preservation of the Mahayana Tradition (FPMT), the organization founded by the Lama Yeshe and Lama Zopa Rinpoche in 1975.
Lama Yeshe and Lama Zopa Rinpoche began teaching at Kopan Monastery, Nepal, in 1970 and since 1972 their teachings have been recorded and transcribed.
The work of the Lama Yeshe Wisdom Archive falls into two categories: archiving and dissemination.
Archiving requires managing the collection of recordings of teachings and images of Lama Yeshe and Lama Zopa Rinpoche and collecting recordings of Rinpoche's on-going teachings, talks, advice and so forth as he travels the world for the benefit of all. We organize transcription of the recordings and make transcripts available to the general public.
Dissemination involves making the Lamas' teachings available through various avenues including books for free distribution and sale, ebooks on a wide range of readers, lightly edited transcripts, a monthly e-letter, social media, DVDs and online video, articles in Mandala Magazine and other magazines, and on our website.
The Archive was established with virtually no seed funding and has developed solely through the kindness of the many people all over the world who partner with us in this amazing and beneficial work. Our further development depends upon the generosity of those who see the benefit and necessity of this work, and we would be extremely grateful for your help. If you would like to make a contribution to help us with any of the above tasks or to sponsor books for free distribution, please contact us:
Lama Yeshe Wisdom Archive
PO Box 636, Lincoln, MA 01773, USA
Telephone (781) 259-4466
info@LamaYeshe.com
www.LamaYeshe.com
The Lama Yeshe Wisdom Archive is a 501(c)(3) tax-deductible, nonprofit corporation dedicated to the welfare of all sentient beings and totally dependent upon your donations for its continued existence. Thank you so much for your support.
Social Media and Monthly e-letter
Follow Lama Yeshe Wisdom Archive on Facebook, Twitter, Instagram and Google Plus and every day read gems from our online teachings, view amazing images, and keep up to date with our latest offerings. Also, each month we send out a free e-letter containing our latest news and a previously unpublished teaching by Lama Yeshe or Lama Zopa Rinpoche. See our website to sign up.
LYWA eBooks and Audio Books
All Lama Yeshe Wisdom Archive titles are available as ebooks from all major online bookstore vendors such as Amazon, Apple, and more. Our free titles are also available to read online or download in pdf format from our website.
In addition to the hundreds of hours of audio that can be listened to on our website and on our podcast, LYWA also offers a selection of our titles as audio books on Audible.com.
LYWA Multimedia Titles
We also invite you to explore our growing collection of free multimedia titles presenting teachings by Lama Yeshe and Lama Zopa Rinpoche on a wide range of Dharma topics. These titles offer the teachings in all their multimedia aspects: edited original transcripts enhanced by images, audio and video from that teaching and supplemented by related informal teaching clips, advice and other relevant teaching materials from the Archive.
Explore the LYWA online store at www.lamayeshe.com where you can find links to our print, ebook, audiobook and multimedia editions.
The Foundation for the Preservation of the Mahayana Tradition
The Foundation for the Preservation of the Mahayana Tradition (FPMT) is an international organization of Buddhist meditation study and retreat centers, monasteries, publishing houses, healing centers and other related activities founded in 1975 by Lama Thubten Yeshe and Lama Thubten Zopa Rinpoche. At present, there are more than 160 FPMT centers, projects and services in over forty countries worldwide.
The FPMT has been established to facilitate the study and practice of Mahayana Buddhism in general and the Tibetan Gelug tradition—founded in the fifteenth century by the great scholar, yogi and saint, Lama Je Tsongkhapa—in particular.
The FPMT website www.fpmt.org offers teachings by His Holiness the Dalai Lama, Lama Yeshe, Lama Zopa Rinpoche and many other highly respected teachers in the tradition, details about the FPMT's educational programs, an online learning center, a complete listing of FPMT centers all over the world, and a link to the FPMT Store.
The FPMT Online Learning Center makes FPMT education programs and materials more accessible to students worldwide. All of the online programs provide audio and/or video teachings of the subjects, guided meditations, readings, and other support materials. Online forums for each program provide students the opportunity to discuss the subject matter and to ask questions of forum elders. Additionally, many retreats led by Lama Zopa Rinpoche are available in full via audio and/or video format.