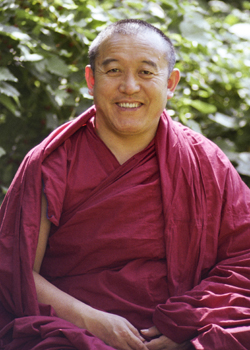 The Venerable Denma Lochö Rinpoche was born in Kham, eastern Tibet, in 1928. At the age of six he was recognised as the reincarnation of a famous yogi, Chöying Gyatso. He entered Drepung Loseling Monastery at the age of eleven.
Rinpoche received his Lharampa Geshe degree in 1953 (coming first in his class) and completed his Tantric exams at Gyume Tantric College in 1958. He received many teachings from the late Venerable Ling Rinpoche (the senior tutor to His Holiness the Dalai Lama) and became the main lineage holder of all his teachings.
After escaping to India in 1959 Rinpoche spent two years on a research fellowship at Calcutta University and was principle of the Buddhist School of Dialectics in Ladakh for six years. In 1967 he was abbot of a monastery in Manali before moving to Dharamsala where he now resides. He served as Abbot of Namgyal Monastery (the private monastery of his Holiness the Dalai Lama) from 1986 to 1991.
Khensur Denma Lochö Rinpoche ceased breathing and entered into clear light meditation on Thursday, October 23, 2014 at his home in McLeod Ganj, India, after a brief illness.
Click here to read Rinpoche's autobiography.
_______________________________________________________________________________________
Teachings from Denma Lochö Rinpoche
The Three Principal Aspects of the Path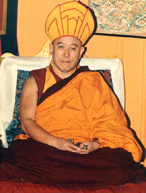 A commentary given by Denma Lochö Rinpoche on Lama Tsongkhapa's text which covers the entire Buddhist path to enlightenment in London, England 2001.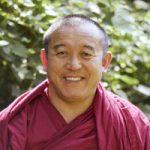 A teaching by Denma Lochö Rinpocheon on the conventional or surface level of truth and the ultimate truth given in Bodhgaya, India December 1995.