Advice from Khen Rinpoche Geshe Thubten Chonyi, resident teacher at Amitabha Buddhist Centre, Singapore. These teachings offer valuable advice related to our Dharma studies and practice: how to check whether our practices are Dharma, the need for study and constant reflection on the Buddha's teachings, and how to overcome our afflictions and problems so that we can truly benefit others. Transcribed, edited and prepared for publication by the editorial team at ABC, Singapore.

Daily Reflections is available as an ebook from online vendors.
CHAPTERS
Daily Reflections
i. Introduction and Biography
1. What is Dharma?
2. Studying the Dharma
3. Need for Reflection and Analysis
4. Overcoming Negative Emotions
5. Practising Pure Perception
6. Faith
7. Advice on Practice
8. Precious Human Rebirth
9. Death and Impermanence
10. Overcoming Attachment to the Body
11. Joyous Effort
12. Subduing Anger
13. Generating Bodhicitta
14. Wisdom Realizing Emptiness
Introduction
The Basic Program is a five year study program launched at Amitabha Buddhist Centre (ABC), an affiliate of the FPMT1, in August 2003 at the request of its spiritual director, Lama Zopa Rinpoche.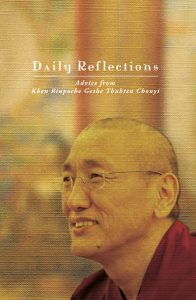 This program, contrary to its name, was intended for serious students who were prepared to commit themselves to this demanding course. It is "basic" insofar as the syllabus has been conceived by Rinpoche to ensure that senior students, at the very least, have studied these essential texts he had personally selected.
ABC was able to launch this program because of the arrival on 25th October 1999 of its new resident teacher, Khen Rinpoche Geshe Thubten Chonyi. Small in stature, humble in demeanour, Khen Rinpoche's appearance gave very little sign of his formidable scholastic reputation at Sera Je Monastic University, where he studied from the age of 18, until he emerged as the first Lharampa Geshe from Kopan Monastery (FPMT's mother monastery in Nepal). Rinpoche said Khen Rinpoche was reputed at Sera Je as being someone who "has known" the Dharma, is widely respected for his exemplary behaviour and conduct and whose knowledge is like the mountain.
It should be noted that, at the present moment, there are only 38 geshes serving as resident teachers in the family of over 150 FMPT centres around the world. Rinpoche recently commented on the good fortune of the FPMT to have such excellent teachers:
"...who are not just scholars in words, but beings who are actually living the practice. Sincere hearted, good hearted, this is an extremely important quality for teachers, a very good model for students, for their inspiration for their studies, inspiration to have deep, clear understanding of Dharma, and be inspired to practice...And that's the most important thing, without a qualified teacher then nothing happens, nothing is able to be developed."2
ABC is therefore very, very fortunate indeed to be under the care and guidance of an exceptionally well-qualified teacher. Over the years, Khen Rinpoche has become father and mother, counselor, confidante, mentor, coach and the most perfect of spiritual guides and virtuous friends to countless ABC students as well as to many other devotees who come to consult him.
This book then is a compilation of Khen Rinpoche's opening remarks and motivations at the beginning of lessons offered in Modules 5 – 9 of the Basic Program3 to commemorate the eighth anniversary of Khen Rinpoche's arrival in Singapore.
These teachings offer valuable advice related to our Dharma studies and practice: how to check whether our practices are Dharma, the need for study and constant reflection on the Buddha's teachings, and how to overcome our afflictions and problems so that we can truly benefit others.
In Singapore, we all lead very busy and stressful lives, juggling personal, family and work commitments and it can be hard to make time to attend Dharma teachings. There is much food for thought contained in this compilation. So wherever you are - commuting on public transport, waiting for a friend at an appointment, between meetings – pull out this book and take a little sip of the Dharma.
We would like to take this opportunity to thank Ven. Tenzin Gyurme, who is our Basic Program translator, Cindy Cheng who first prompted her husband, Phuah Soon Ek, to transcribe the Basic Program teachings, Fiona O'Shaughnessy who spear-headed the editing of the transcripts, Yap Siew Kee, Tara Hasnain and Cecilia Tsong who helped with proof-reading and the team of transcribers led by Phuah – Vivien Ng, Angie Xiao, Tok Sock Ling, Cheng Tien Yit and Alison Wong. The transcripts were further prepared for this compilation by Cecilia Tsong. We would also like to thank Lim Cheng Cheng and Tara Hasnain for their invaluable input and editorial suggestions.
May whatever merit is generated by publishing this book be dedicated to the long life and good health of our precious teachers, especially His Holiness the Dalai Lama, Lama Zopa Rinpoche and Khen Rinpoche Geshe Thubten Chonyi as well as to the immediate fulfilment of all their holy wishes. May the Buddha's teachings, especially the stainless teachings of Lama Tsongkhapa, flourish in the ten directions, and may Amitabha Buddhist Centre be free of all obstacles in spreading the holy Buddhadharma in Singapore exactly according to the wishes of Lama Zopa Rinpoche.
The Editorial Team / Singapore
October 2007
Updated 2011
Biography of Khen Rinpoche Geshe Chonyi 
Khen Rinpoche Geshe Chonyi has been the resident teacher of Amitabha Buddhist Centre since October 1999. He was born in Nepal in 1962 and was ordained by Kyabje Lama Zopa Rinpoche in 1974 at the age of twelve.
Khen Rinpoche holds a Geshe Lharampa degree, which is the highest Tibetan Buddhist doctorate awarded to monks from Sera Je Monastic University. This degree requires at least 20 years of intensive study and debate and only the most outstanding students qualify to sit for the exams.
After graduating as a geshe in 1997, Khen Rinpoche joined the prestigious Gyurme Tantric College for a year to further his studies on tantric Buddhism. He was awarded first position in his group for the highest Tantric Ngarampa (Master of Tantra) degree. He then returned to Kopan Monastery where he taught Buddhist philosophy.
With the support of Lama Zopa Rinpoche and the late Khensur Rinpoche Lama Lhundrup (then abbot of Kopan Monastery), Khen Rinpoche started teaching the five-year Basic Program at ABC in August 2003.
This first cycle of the Basic Program was completed in September 2009 with over 25 students graduating from this cohort.
Khen Rinpoche was then requested and kindly agreed to teach another cycle of the Basic Program for new students at ABC. The second cycle of the Basic Program began in June 2011.
In July 2011, Khen Rinpoche was appointed abbot of Kopan Monastery, in addition to his duties as the centre's resident teacher.
Besides being perfectly qualified to teach such a study program, Khen Rinpoche is also renowned for his ability in developing the students' analytical skills through discussions, debate and written assignments. Khen Rinpoche is held in great esteem for his illustrious conduct, vast learning and great kindness, wisdom and compassion.
---
Notes
1 FPMT stands for the Foundation for the Preservation of the Mahayana Tradition. To find out more, go to www.fpmt.org.  [Return to text]
2 An excerpt from a talk given by Lama Zopa Rinpoche before and after Guru Puja at Tse Chen Ling, San Francisco, USA on 26th April 2007.  [Return to text]
3 Modules 5 - 9 were conducted from 12th August 2005 to 11th October 2007. Modules 5, 7, 8 and 9 covered Chapters 1-9 of Shantideva's Engaging in the Bodhisattva Deeds while Module 6 was a commentary on the lo-jong (mind transformation) text, The Wheel-Weapon.  The audio recordings and edited transcripts of these modules can be found on the ABC website.  [Return to text]