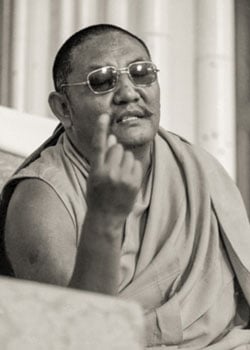 Geshe Jampa Tegchok was born in 1930 and became a monk at the age of eight. He studied the major Buddhist treatises at Sera-je Monastic University in Tibet for fourteen years before fleeing his homeland in 1959 after the abortive uprising of the Tibetans against the Communist Chinese occupation of their country.
After staying in the refugee camp at Buxa, India, Geshe Tegchok went to the Central Institute for Higher Tibetan Studies, Varanasi, where he obtained his Acharya (Master) Degree and taught for seven years. He then began teaching in the West—three years in England and ten years at Nalanda Monastery in France, and then in the United States. In 1993, His Holiness the Dalai Lama appointed him as abbot of Sera-je Monastic University in India until he retired from that post.
Geshe Tegchok died in India at the age of 84 on October, 28, 2014 from natural causes.
Geshela is the author of Transforming Adversity into Joy and Courage: An Explanation of the Thirty-seven Practices of Bodhisattvas and The Kindness of Others.
_______________________________________________________________________________________
Teachings from Geshe Jampa Tegchok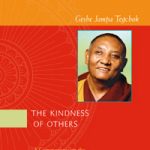 Khensur Rinpoche Geshe Jampa Tegchok gives a commentary on the Seven-Point Mind Training. He bases his explanation on Kadampa Geshe Chekawa's classic text, The Seven Point Mind Training.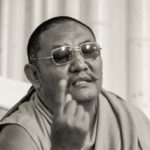 Teachings on the Heart Sutra, a Perfection of Wisdom text by Geshe Jampa Tegchok in Somerset, England 2007.