The Guru Puja (or Lama Chöpa) is a chanting meditation ceremony for strengthening our relationship with our teachers and imprinting the whole path to enlightenment on our minds.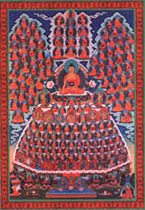 Lama Lhundrup, former abbot of Kopan Monastery chants the tunes from the Guru Puja. Lama Lhundrup doesn't chant the entire puja here, only the tune for each section for a couple of verses so that practitioners who do or lead the puja can learn how it goes.
Click here to listen to this recording.
For commentary and recordings of the Lama Chöpa by Lama Zopa Rinpoche, see the Lama Yeshe Wisdom Archive Multimedia series Guru Puja is the Heart Practice. For oral commentaries of both the Lama Chöpa and Lama Tsongkhapa Guru Yoga, visit Special Commentaries at FPMT Online Learning Center.