Dharma protects us from suffering
The Sanskrit word D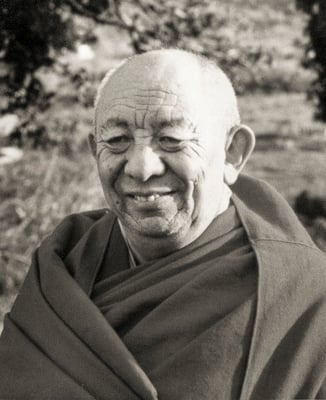 harma [Tib: chö] means to hold, or uphold. What is it that Dharma upholds, or maintains? It is the elimination of suffering and the attainment of happiness. Dharma does this not only for us but for all other sentient beings as well.
The sufferings we experience are of two types: those immediately visible to us as humans and those we cannot see without psychic powers. The former include the pain involved in the birth process, the unpleasantness of occasionally becoming sick, the misery experienced by growing old and aging, and the terror of death.
The sufferings that come after death are not visible to an ordinary person. We might think that when we die we will probably be reborn as a human being. However, this is not necessarily the case. There is no logical reason for us to assume that such an evolution will occur. Nor is it the case that after we die we will not take rebirth at all.
As for the particular type of rebirth we will take, this is very difficult to predict; it's not within our present sphere of knowledge. If we generate positive karma during this life, it will naturally follow that we will take happy forms of rebirth in the future. Conversely, if we create mostly negative karma, we will not take a happy rebirth but experience great difficulties in lower states of being. This is certain. That's the way rebirth works. If you plant a wheat seed, a wheat plant grows; if you plant a rice seed, a rice plant is produced. Similarly, if you create negative karma, you're planting the seeds of rebirth in one of the three lower states as a hell being, a hungry ghost or an animal.
Although the sufferings of the hell beings and hungry ghosts may be invisible to us, we can see those of the animals with our own eyes. If we wonder what it would be like if we ourselves were to be reborn as animals, we can just look at those around us and imagine what it would be like to be in their condition. Dharma is that which holds us back and protects us from experiencing the suffering of the three lower realms.
However, the entire wheel of rebirth, the whole of cyclic existence, is in the nature of suffering. Dharma safeguards us from all of it. Moreover, the Mahayana Dharma, the teachings of the great vehicle, protects not only ourselves but also all other living beings.
In Buddhism, we hear a lot about the Three Jewels of Refuge—Buddha, Dharma and Sangha. The first of these includes all the fully enlightened beings who teach the Dharma. For us, Buddha Shakyamuni, who first turned the wheel of Dharma at Sarnath by teaching the four noble truths, is the most significant. The last of these four truths—the truth of the path—is the Dharma that we must practice in order to achieve liberation. This is the refuge object called the Dharma jewel.
The cause of suffering
Dharma practice entails two things: recognizing and eradicating the root of samsaric suffering. What is the root of cyclic existence? It is the grasping at a truly existent self and at truly existent phenomena. Therefore, we need to develop revulsion for this grasping that brings us all our suffering and an understanding of the antidote to it. The antidote to grasping at true existence is the wisdom realizing selflessness; a deep understanding of selflessness will liberate us from suffering.
The sufferings we experience in cyclic existence are caused by the karma created by our acting under the influence of the delusions. When we understand this, we aspire to obtain the antidote to self-grasping. Why have we not yet developed this antidote in our mind stream; why don't we understand selflessness? One reason is that we are not sufficiently aware of impermanence and death.
Contemplating impermanence and death
The only possible outcome of birth is death. We are inevitably going to die. There has never been a sentient being whose life did not end with death. People try many methods to prevent death from occurring, but it's impossible. No medicine can cure us of death.
But just thinking "I'm going to die" isn't really the correct way to contemplate death. Of course, everybody is going to die, but merely recalling this fact is not very powerful. It is not the proper method. Similarly, just thinking of the fact that our body is constantly disintegrating and deteriorating and will eventually fail is also not enough. What we have to think about is how to prevent all this from happening.
If we think about the fear that we'll experience at the time of death and how to eliminate it, our meditation on death will be effective. People who have accumulated much negative karma during their lives become very frightened at the time of death. They cry, drool, excrete into their clothing and are completely overwhelmed—clear signs of the fear and suffering that occur at death because of negative actions created during life.
Alternatively, if during our lifetime we refrain from committing negative actions, death will be very easy to face. Death can be a joyous experience, like that of a child coming home. If we have purified ourselves, we can die happily. By abstaining from creating the ten non-virtuous actions and cultivating their opposites, the ten virtues, our death will be easy and, as a result, we won't have to experience rebirth in conditions of suffering. We will be assured of rebirth in more fortunate states.
If we plant seeds of medicinal plants, we get trees with medicinal powers; if we plant seeds of poisonous trees, we get poisonous fruit. Similarly, if we plant the seeds of virtuous actions on our consciousness, we will experience happiness in future rebirths; we will experience good fortune, both mentally and physically. This basic Dharma teaching of avoiding the ten non-virtuous deeds and cultivating the ten virtues is given not only in Buddhism but also in many other religions.
If simply thinking "I'm going to die" is not very beneficial, how then should we contemplate death and impermanence? We should think, "If I have created any of the ten non-virtuous actions, when I die I will have to face great fear and suffering and will be reborn into unimaginable misery. If, on the other hand, I have created virtue, when I die I will not experience much fear or suffering and will be reborn into a fortunate state." That is the correct way to think about death.
This meditation is not thinking gloomily and pessimistically, "I'm going to die and there's nothing I can do about it," but rather contemplating intelligently, "Where will I go after death? What sort of causes have I created? Can I make my death a happy one? How? Can I make my future rebirths happy? How?"
When contemplating future rebirths we should remember that there is no place in cyclic existence that is reliable. No matter what body we obtain, it must eventually pass away. We read accounts of people who have lived for a hundred or even a thousand years, but no matter how fantastic their stories, they have all had to die. All samsaric bodies are subject to death.
Moreover, there is no place to which we can run to escape death. No matter where we are, when the time comes, we'll have to die. At that time, no amount of medicine, mantra or practice will help. Surgery can cure certain diseases, but it can't prevent death.
No matter what type of rebirth we gain, it will be subject to death. The process is ongoing. Contemplating the long-range effects of our actions and the continuity of the process of birth, life, death and rebirth will help us generate much positive karma.
Even though we sometimes plan to practice the Dharma, we usually plan to do so tomorrow or the day after. However, we can't tell when we're going to die. If we were guaranteed a hundred years to live, we'd be able to plan our practice long-range, but we have not the slightest certainty of when we're going to die. Therefore, it's very foolish to put our practice off. Some people die in the womb before they're even born; others die as small babies before they've even learned to walk. There's no logic in thinking that we're going to live long.
Furthermore, our body is very fragile. If it were made of stone or iron we could be excused for thinking that it was very stable, but we can easily see that it's very weak and liable to go wrong at any moment. It's like a delicate wrist-watch made of countless tiny, fragile parts. Our body is not to be trusted. And there are many circumstances that can cause our death: food that has become poisonous, the bite of a small insect or the prick of a tiny thorn. Such seemingly insignificant conditions can kill us. Even the food and drink we ingest to extend our life can become the circumstances that end it. There's no certainty as to when we'll die or what will cause our death.
Even if we feel certain that we'll live a hundred years, many of those years have already passed and we haven't accomplished much. We approach death like somebody asleep in a railway carriage, constantly getting closer and closer to the destination but unaware of the process. Of course, there's nothing we can do to stop it. We just constantly get ever-closer to death.
No matter how much money, jewelry, houses or clothes we accumulate in life, it makes no difference whatsoever at the time of death. When we die, we go to the next life empty-handed; we cannot take even the tiniest material object with us. Even our body must be left behind; our mind and body separate and our mind goes on alone.
If at death we have to leave our body, our friends and all our possessions, what, then, accompanies our consciousness at that time? Is there anything that can go with it to the next life? Yes, there is. When we die, the karmic imprints that we have accumulated during our life accompany our consciousness.
Creating positive and negative karma
If we have created any of the ten non-virtuous actions, a negative karmic debt accompanies our mind-stream as it evolves into the future rebirth. By killing other beings, stealing others' possessions or indulging in sexual misconduct, we leave karmic imprints of these negative physical actions on our consciousness. By lying, slandering other people and causing disunity among them, gossiping or speaking harshly, harming others with words, we leave karmic imprints of these negative verbal actions on our consciousness. By harboring covetous thoughts, wishing to have the possessions of others; generating ill-will towards others, wishing them harm; or holding distorted views, such as "there are no past or future lives," "there's no such thing as cause and effect" or "there's no such thing as refuge," we leave karmic imprints of these negative mental actions on our consciousness. All these negative karmic debts travel with and direct our mind into future rebirths.
The reverse is also true. If we turn away from negativity and create virtuous actions of body, speech and mind, the karmic seeds of these positive actions also travel on our mind-stream and produce better circumstances in our future lives.
If we really think about the situation we're in we'll resolve to try to generate positive karma and eliminate its opposite in whatever way we can. In other words, we should try to create as little negativity as possible and purify the seeds of past negative actions so that not even the smallest karmic debt remains to be repaid in our future lives.
We also need to look at the kinds of result that can happen within the law of cause and effect. For example, there's the story of a person who had many good qualities but was harsh in his speech. Once he abused another person by saying, "You talk like a dog." As a result, he himself was reborn as a dog five hundred times. Seemingly small negative actions can bring devastating effects.
Similarly, however, small positive actions can also produce great results. For example, there's the story of the young child who made a humble offering to the Buddha and as a result was reborn as the great king Ashoka, who built thousands of stupas and performed countless other sublime activities.
Developing renunciation
Contemplating the various non-virtues we have committed and their results is a very effective way of ensuring our welfare and happiness. When we think of the suffering we ourselves will have to bear as a result of our negativities, we'll give birth to the strong, indestructible wish not to have to experience all this misery and will have developed what is called renunciation.
Acquainting ourselves with this type of thinking is itself a form of meditation—analytical meditation. First we develop mindfulness of our own suffering; then we extend this mindfulness to the suffering of all other sentient beings. Considering deeply how all beings want to be completely free of all suffering but are caught in a net of suffering from which they cannot escape leads to compassion.
If we don't develop the wish to be free from all our own suffering, how can we develop the wish for others to be free from theirs? We can put an end to our own suffering, but this in itself is not ultimately beneficial. We need to extend this wish to all living beings, who also desire happiness. We can train our mind to develop the wish for all sentient beings to be completely parted from their sufferings. This is a much wider and more beneficial way of thinking.
Why should we concern ourselves with the suffering of other living beings? It's because we receive so much from others: the milk we drink comes from the kindness of others, the warm clothing that protects us from the wind and cold, the house we live in, the money we receive, our precious human body—all these things come from the kindness of others; the list is endless. However, just these few examples should be enough to show us why we should try to find a method that can eliminate the suffering of all the kind mother sentient beings.
No matter what kind of practice we do—the recitation of mantras, any other kind of meditation, whatever it is—we should always do it with the thought, "May this benefit all living beings." Not only will this help others; it will naturally benefit us as well. Ordinary life situations can give us an appreciation of this: somebody who is very selfish and always works for his or her own gain is never really liked by others whereas somebody who is very kind and always helping others is usually very popular.
The thought we must develop in our mind stream is, "May all beings be happy and may none of them suffer." We should try to incorporate this thought into our own thinking by remembering it again and again. This will be extremely beneficial. Those who in the past developed this thought are now great buddhas, bodhisattvas or saints; all the truly great people of the world based their lives upon it. How wonderful it would be if we could try to generate this thought within ourselves.
Q. Are we advised not to defend ourselves when somebody tries to harm us?
Serkong Rinpoche. That question introduces a very extensive subject. If somebody hits you over the head with a stick, the best response is to meditate that you experienced this because of your own past negative actions. Think how this person is allowing that particular karmic debt to ripen now rather than at some future time. You should feel gratitude that this person has eliminated that negative karmic debt from your mind stream.
Q. What if somebody attacks my wife or child, who are under my protection? Should I not defend them? Would it be negative to do so?
Serkong Rinpoche. As it is your duty to protect your wife and child, you must try to do so as skillfully as possible. You have to be clever. The best way to protect them is without harming their attacker. In other words, you have to find a method of protecting them whereby you do not inflict any harm.
Q. He can he harm my children but I cannot harm him? Is it not our duty to defend our children against barbarous and cruel acts? Should we just lay down our lives?
Serkong Rinpoche. In order to handle this situation skillfully you need a great deal of courage. There's a story about a previous life of the Buddha in which he was a navigator who went to sea with a group of five hundred people in search of buried treasure. One of these people had very greedy thoughts of murdering all the others and stealing the jewels for himself. The bodhisattva navigator became aware of the man's intentions and thought it incorrect to let a situation develop where one man killed five hundred. Therefore, he developed the courageous thought of saving the five hundred by killing this one man, willingly accepting upon himself the full responsibility of killing. If you are willing to be reborn in hell in order to save others, you have a greatly courageous thought and can engage in these acts, just as the Buddha himself did.
Q. Under such circumstances, is killing still considered to be a negative action?
Serkong Rinpoche. Nagarjuna says in his Friendly Letter that if one commits negativity in the name of protecting one's parents, children, Buddhism or the Three Jewels of Refuge, one will have to experience the consequences. The difference is in whether or not you are aware of the consequences and are willing to take them upon yourself in order to selflessly protect your wife and child. If you harm the enemy, you are going to experience a suffering rebirth. However, you should be willing to face this by thinking, "I will take that suffering on myself so that my wife and child don't suffer."
Q. Then according to Buddhism it would still be a non-virtuous act?
Serkong Rinpoche. Protecting your wife and child is virtuous but harming your enemy is not. You have to be willing to accept the consequences of both actions.
Q. You said that those who create negative karma will suffer in the future but those who do good will experience happiness. Can these good actions lead to complete liberation, in the sense of not having to experience rebirth?
Serkong Rinpoche. If you want to gain complete liberation from cyclic existence, you have to follow the teachings of the Buddha completely and precisely. If you do so correctly, liberation from cyclic existence is definitely possible.