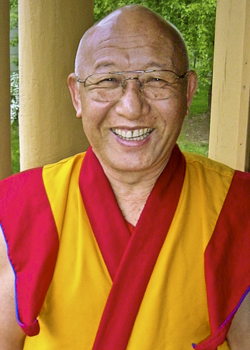 Venerable Geshe Tsulga (Ven. Tsultrim Chophel) was born in Tibet in 1939. A novice monk by the age of seven, he joined the Je college of Lhasa's Sera Monastery to begin his geshe studies at seventeen. In 1959 he fled Tibet after the Tibetan uprising against Chinese occupation. After a decade in the refugee camp of Buxaduar in West Bengal, he went to Bylakuppe in South India to help build Sera monastery in exile. In 1988, he graduated the geshe lharampa studies with highest honors and he was at the top of his class.
He arrived in the United States in 1993, after receiving a request from Lama Zopa Rinpoche to teach at the FPMT centers on the east coast. He was the resident teacher at Kurukulla Center in Boston from 1995.
Those who knew Geshe-la can attest to his great kindness, humility and his shining example as one who truly embodies the teachings of the Buddha. He had extensive knowledge of Buddhist philosophy and has authored several books published in Tibetan. Geshe-la's latest book, How to Practice the Buddhadharma: A Lamp Illuminating the Path to Liberation, published in Tibetan and English, is forthcoming from Wisdom Publications.
After manifesting liver cancer for two years, Geshe-la passed away in November 2010. Read Geshe Tsulga's obituary in Mandala magazine (April - June 2011).
_______________________________________________________________________________________
Teachings from Geshe Tsulga
How to Practice the Buddhadharma

A Lamp Illuminating the Path to Liberation