Commentaries on the emptiness section of Mind Training Like the Rays of the Sun and The Heart Sutra.
CHAPTERS
Mirror of Wisdom
Part One: Introduction
Part One: Mind Training - Developing Bodhicitta
Part One: Mind Training - Developing Emptiness
Part One: Learning to Become a Buddha
Part Two: Commentary on the Heart Sutra
Mirror of Wisdom
Teachings on Emptiness
by Geshe Tsultim Gyeltsen
Produced by the Lama Yeshe Wisdom Archive for Thubten Dhargye Ling Publications, Long Beach, California.
"We should exa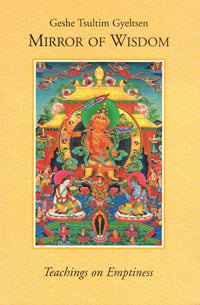 mine, investigate and analyze the mode of apprehension of our innate grasping at self. In other words, how does our innate grasping perceive the self to exist? What does our innate ignorance perceive? What does it grasp at? We should always focus upon our own condition and not point our finger at someone else's ignorance. Having discovered this, we must then find the means of generating a different kind of perception, one that directly contradicts the mistaken one that grasps at self. This perception is the perfect view of emptiness, or selflessness. However, in order to realize this view, we first have to be clear about what this view actually is. We need to establish the correct view of emptiness."
In this book, Venerable Geshe Gyeltsen does indeed help us establish a correct view of emptiness, the ultimate mode of being of all phenomena, which we have to do if we are ever to escape from our beginningless suffering and find the perfect peace and happiness we seek. Basing his explanation of emptiness on the Heart Sutra, the essence of the Buddha's perfection of wisdom teachings, and the emptiness section of a classic Tibetan thought transformation text, Namkha Pel's Mind Training Like the Rays of the Sun, Geshe-la compassionately helps us cut through our inability to see reality and sets us firmly on the path to liberation and enlightenment.
You can read this book online.