Praises: Introduction
First Session: Thursday, May 26, 2005
Second Session: Sunday, May 29, 2005 (morning)
Third Session: Sunday, May 29, 2005 (afternoon)
Praises: Appendices
Dedication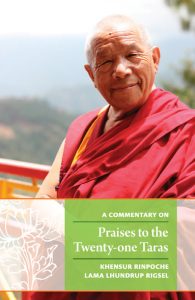 Through the merit created by preparing, reading, thinking about and sharing this book with others, may all teachers of the Dharma have long and healthy lives, may the Dharma spread throughout the infinite reaches of space and may all sentient beings quickly attain enlightenment.
May the merit created also be dedicated to the quick return of the unmistaken reincarnation of Khensur Rinpoche Lama Lhundrup Rigsel. May all favourable conditions for the successful completion of the stupas to be built in his memory arise immediately.
In whichever realm, country, area or place this book may be, may there be no war, drought, famine, disease, injury, disharmony or unhappiness, may there be only great prosperity, may everything needed be easily obtained and may all be guided by only perfectly qualified Dharma teachers, enjoy the happiness of Dharma, have love and compassion for all sentient beings and only benefit and never harm each other.
Khensur Rinpoche Lama Lhundrup's long and enduring relationship with Amitabha Buddhist Centre began in 1998 where, for the first time, he presided over our annual Vesak Day Celebrations. For the next twelve years, he was to grace this special event without fail as well as revisiting us in October for our annual Medicine Buddha Dharma Celebrations that started in 2007.
It is impossible to count the number of people Khensur Rinpoche brought to the Dharma and the number of the students he had guided, advised and benefited over the years. He was a deeply loved and highly respected lama who radiated great kindness, compassion and wisdom, inspiring everyone with his joy in and devotion to the Dharma.
Ever humble and self-effacing, Khensur Rinpoche rarely had his teachings published. Therefore we are extremely pleased to be able to offer this commentary by Khensur Rinpoche on the Praises to the Twenty-one Taras that was taught over three sessions at Amitabha Buddhist Centre in May 2005.
We wish to thank Venerable Tenzin Gyurme for translating the teachings.
This book had been compiled by a team of dedicated volunteers to whom we are extremely grateful: Phuah Soon Ek, Stephanie Ng and Angie Xiao for transcribing the teachings; Soh Seok Keim for her editorial support; Lobsang Drolkar for editing the transcripts; and Paul Lim for his assistance in proof-reading. The responsibility for any errors in this book is entirely mine.
We thank Mandala magazine for their kind permission to use extracts from their article on Khensur Rinpoche, Mother, Father, Teacher, Friend: The Incomparable Kindness of Kopan's Treasured Khensur Rinpoche Lama Lhundrup Rigsel in its October – December 2011 issue.
We also wish to thank Nick Ribush of Lama Yeshe Wisdom Archive and Tom Truty for their assistance in providing additional editorial materials and the FPMT Education Department for their kind permission to use the Praises to the Twenty-one Taras and the Prayer of the Benefits from Essential Buddhist Prayers, An FPMT Prayer Book, Common Centre Practices, Volume 2, 2009 edition and extracts from Benefits and Practices related to Statues & Stupas by Lama Zopa Rinpoche, copyright: FPMT, Inc. 2003.
Ng Swee Kim
Publications Group
Amitabha Buddhist Centre
3rd April 2012
A Message from Kyabje Lama Zopa Rinpoche
My dear friends, brothers and sisters,
By building a stupa, without words, you are continually liberating so many sentient beings.
Every day, anybody who sees, touches—including any insects that touch the stupa—remembers, talks or dreams about the stupa, the stupa plants the seed of enlightenment in them and purifies them. The stupa is meaningful to behold, liberating many sentient beings, insects and human beings every day.
When the wind touches a stupa—especially when it has been filled with the four dharmakhaya relic mantras—the wind becomes blessed. Then wherever the wind blows, whoever it touches, is liberated from the lower realms by purifying their negative karma.
When rain falls on the stupa, that water liberates any being it touches— all the worms in the ground and so forth—from the lower realms. It is the same with dust.
When you build stupas to inspire people, without even teaching the Dharma, for however many hundreds and billions of years that the holy object lasts, it continues to liberate many sentient beings every day; freeing them from the lower realms, causing them to actualise the path, liberating them from samsara and bringing them to enlightenment.
Even after you die and you are in another universe, in the hell realms or a pure land, wherever you are, the stupa that you built or helped to build, is continually benefiting sentient beings. It is incredible how you can continually benefit sentient beings by having built a stupa.
In the Sutra of the Piles of Flowers, it says, "Whatever one offers [to a stupa], whether it is tiny or big, it causes happiness from beginningless rebirths up to now." This refers to temporary happiness and, on top of that, the causes of ultimate happiness, i.e., liberation from suffering and the causes of suffering and full enlightenment for the sake of all sentient beings. Then you are able to liberate numberless sentient beings from suffering and bring them to enlightenment; of course this includes achieving the small happiness of worldly people. It is all contained here.
These are some of the benefits you get by helping to build this stupa.
With much love and prayers,
Lama Zopa Rinpoche
July 2013
Foreword by Khen Rinpoche Geshe Chonyi
The fact that today I am a monk who has been able to complete my geshe studies is due in no small part to Khensur Rinpoche's wise advice and guidance at important turning points in my life.
At the age of 16 I questioned the purpose of my life as a young monk. I felt I knew nothing and my brother suggested that I leave the monastery and go to high school. At that time, Khensur Rinpoche counselled me: "However much your brother studies or however much money he makes, it won't help in his future lives. You will reap the benefits in your future lives by staying here and reciting prayers." That advice was very helpful for my mind and I stayed on in the monastery.
In 1980, Lama Yeshe and Khensur Rinpoche had the idea that some Kopan monks should attend Sera Je Monastic University in South India to further their studies. Four monks were chosen and I was one of them.
I hear that some Singapore parents would go abroad with their children to settle them in when they leave home for the first time to study overseas. In the same way, Khensur Rinpoche accompanied us to Sera. Of course, the journey was far less comfortable than flying in an aeroplane as we had to travel by bus and train for over 50 hours! We had no train reservations and the trains were always so full. One time, we even had to pull Khensur Rinpoche into the train carriage through a window.
Khensur Rinpoche stayed with us for two weeks at Sera Je and sent us off to debate every evening. One night I returned and told him I couldn't stay on. I complained that I couldn't understand or learn anything, I found the debates boring, I had no friends and the food was bad. His reply? "How can you say that when you have been here for less than two weeks! After three years, you will know whether this is the right place for you or not."
Discouraging me from returning to Kopan made me come to my senses. Due to that kindness, I ended up spending 18 years in Sera Je where I had the opportunity to study the teachings of the Buddha in-depth and today I have the great honour and privilege of serving Kopan Monastery as its abbot.
I am therefore most delighted and happy that Amitabha Buddhist Centre has decided to publish this commentary by Khensur Rinpoche on the Praises to the Twenty-one Taras. The practice of Tara is highly respected and revered for its effectiveness in fulfilling Dharmic wishes and clearing hindrances for sincere and devoted practitioners.
Like the great holy beings of the past, Khensur Rinpoche had great faith in and devotion towards Mother Tara. This commentary therefore bears the special blessing of his personal experience with the power and effectiveness of the practice of Tara.
Mother Tara is also a very popular practice among Khensur Rinpoche's students in Singapore. I am sure this commentary will further deepen their understanding of the inconceivable qualities of Mother Tara's holy body, speech and mind and thereby enhance the quality of their practice.
I pray that whoever sees, hears or thinks about, studies or even merely remember the existence of this commentary will be able to attain the state of Mother Tara without delay and be quickly reunited with the unmistaken reincarnation of Khensur Rinpoche Lama Lhundrup.
2nd April 2012
Singapore
Biography of Khensur Rinpoche Lama Lhundrup Rigsel
Khensur Rinpoche Lama Lhundrup Rigsel was born in Tibet in 1941 to a poor peasant family. He joined Sera Monastery while still a boy and left for India in 1959. While at Buxa Duar in India, he met Lama Yeshe and Lama Zopa Rinpoche and studied with great masters such as Geshe Rabten and others.
In 1972, he was requested by Lama Yeshe to look after a small group of 30 young monks in Kopan Monastery, Nepal. Thus began Khensur Rinpoche's 40 years of service in various capacities at Kopan. This culminated in the title of Khen Rinpoche (abbot) being officially bestowed on him by the Office of His Holiness the Dalai Lama in 2001 although he had been the de facto abbot since the time of Lama Yeshe's death in 1984. He remained in this position until July 2011 when the responsibility of the abbot of Kopan was passed on to Geshe Thubten Chonyi.
Khensur Rinpoche received his geshe degree from Sera Monastery in 1987. He travelled to Sera Je for the final debate and his debate was reputedly one of the most memorable in Sera's recent history.
Kopan Monastery grew from strength to strength under Khensur Rinpoche's leadership and guidance. Since 1972, nearly 800 monks have been educated there, including the 370 in residence today. Kopan House at Sera Monastery, part of Tsawa Khamtsen, now houses around 80 Kopan monks on their way to becoming geshes. Kopan monks also study at Gyume Tantric College and at the Central University of Tibetan Studies in Sarnath. Six resident geshes of FPMT centres are from Kopan.
One of Khensur Rinpoche's most significant accomplishments was establishing the philosophy studies program that leads to a geshe degree at Kopan. This program has been officially recognised in 2010 and has produced, to date, 15 rabjampa geshes with many more studying towards this degree. As a result of Khensur Rinpoche's dedicated efforts, Kopan Monastery joins the three great Gelug monasteries (Sera, Ganden and Drepung) and Tashi Lhunpo as institutions bestowing geshe degrees to its monks.
With the same foresight, Khensur Rinpoche also started the philosophy studies program for the nuns of Khachoe Ghakyil Nunnery, which was established in 1986. In a few years' time, the first nuns will be graduating and obtaining the rank of geshema, thanks to Khensur Rinpoche's vision. To date, the nunnery has educated over 450 nuns with 350 nuns currently in residence.
Khensur Rinpoche helped to establish the Nepal Gelug Great Monlam Prayer Festival that Kopan hosts every year. He also helped to create the Nepal Gelug Education Forum attended every year by all the Gelug monasteries in Nepal to debate during the Jayang Guncho, the annual inter-monastic debates. In 2010, the first Gelug Exams, an important step in continuing the philosophy studies at Sera Je, were held for the participating monasteries.
In addition to the hundreds of monks and nuns that Khensur Rinpoche looked after, many more were his students in Singapore, Malaysia, Hong Kong and Taiwan where he travelled regularly to give teachings. Several thousand students have also attended the annual meditation and other Dharma courses at Kopan over the years. Khensur Rinpoche's impact on these students, through giving refuge vows, teachings and advice, is incalculable. These students in turn have gone on to benefit many others with their newfound Dharma understanding and knowledge.
In this way, Khensur Rinpoche (or Lama Lhundrup as he was more widely known) tirelessly served his gurus and carried out their holy wishes, fulfilling their vision for Kopan. Khensur Rinpoche was much loved for his great compassion, kindness and wisdom, and deeply venerated for his unceasing concern and care for everyone who sought his help and advice.
In January 2011, Khensur Rinpoche was diagnosed with cancer and he passed away on 7th September 2011.
Although Khensur Rinpoche was always extremely humble and modest, his perfect qualities and the power of his spiritual accomplishments manifested in the amazing number and quality of the relics found in the ashes after his cremation. In death as in life, Khensur Rinpoche never stopped in his work to benefit all sentient beings.
The benefit and the blessing of merely seeing the relics of such a holy being cannot be adequately described. The benefit of being actually blessed with them is therefore even more inconceivable.
What are relics and how do they come about?
Relics are the remains of holy beings who have devoted their entire lives to virtuous spiritual practice and who have achieved very high spiritual attainments. They manifest relics as a means of passing on the blessings of their body, speech and mind.
Relics can only come about through the most intensive Dharma practice with the purest of motivations to benefit others at all times. They are the result of having achieved realisations, with making very strong prayers and observing pure morality over countless lifetimes.
There are many different types of relics: some are bones or teeth, others are like blessed pills, appearing like pearls, jewels or crystallised deposits. They can also spontaneously multiply over time as have occurred with many of Khensur Rinpoche's relics. This is said to be an indication of the power of his realisations.
How do relics benefit us?
Due to the power of the qualities and spiritual attainments of the holy being who produced the relics, merely seeing them (even in photographs), thinking about or remembering them can help us accumulate extensive merit and purify our negative karma.
Therefore, as and when we have the good fortune to see Khensur Rinpoche's relics, we are advised to think in the following way:
At this time, Khensur Rinpoche is benefiting me by emanating relics that will ultimately lead me to liberation and enlightenment.
I rejoice deeply in the deeds and realisations of Khensur Rinpoche.
May I be able to become like him, always working selflessly for the welfare and benefit of others, in this and all future lives to come.