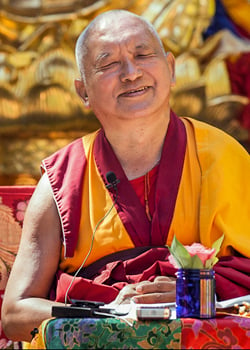 Lama Zopa Rinpoche was born in Thangme Nepal, in 1945. At the age of three he was recognized as the reincarnation of Sherpa Nyingma yogi, Kunsang Yeshe, the Lawudo Lama. Rinpoche's Thami home was not far from the Lawudo cave, in the Mount Everest region of Nepal, where his predecessor meditated for the last twenty years of his life. Rinpoche's own description of his early years may be found in his book, The Door to Satisfaction (Wisdom Publications). At the age of ten, Rinpoche went to Tibet and studied and meditated at Domo Geshe Rinpoche's monastery near Pagri, until the Chinese occupation of Tibet in 1959 forced him to forsake Tibet for the safety of Bhutan.
Rinpoche then went to the Tibetan refugee camp at Buxa Duar, West Bengal, India, where he met Lama Yeshe, who became his closest teacher. The Lamas went to Nepal in 1967, and over the next few years built Kopan and Lawudo Monasteries. In 1971 Lama Zopa Rinpoche gave the first of his famous annual lam-rim retreat courses, which continue at Kopan to this day.
In 1974, with Lama Yeshe, Rinpoche began traveling the world to teach and establish centers of Dharma. When Lama Yeshe passed away in 1984, Rinpoche took over as spiritual director of the Foundation for the Preservation of the Mahayana Tradition (FPMT), which has continued to flourish under his peerless leadership. As spiritual director of the extensive network of centers, projects and services of the FPMT for almost forty years, Rinpoche's philanthropic work has seen a proliferation of charitable projects and beneficial activities worldwide. More details of Rinpoche's life and work may be found on the FPMT website.
On April 13, 2023, at 9.30 a.m. Nepal time, Lama Zopa Rinpoche showed the aspect of passing away. Rinpoche had been up in the mountains in the Tsum Valley and had to return urgently to Kathmandu as he was experiencing altitude sickness. On arrival back in Kathmandu, Rinpoche stopped breathing and entered his final meditation (tukdam). Rinpoche was taken back to his room at Kopan Monastery, where his clear light meditation continued until April 14 at 10 p.m. When Rinpoche had ended his meditation, the embalming process for the holy body began.
To continue reading more about Lama Zopa Rinpoche's life, visit here.
---
View a photo montage on YouTube of Lama Yeshe and Lama Zopa Rinpoche prepared by David Zinn for the 2009 Parliament of World Religions.
For more information about Lama Zopa Rinpoche and his work, see Lama Zopa Rinpoche's page on the FPMT website.
Thousands of pages of Rinpoche's teachings have been made available as transcripts, books and audio by the Lama Yeshe Wisdom Archive, and most are freely available on the Archive website.
Rinpoche's other published teachings include Wisdom Energy (with Lama Yeshe), Transforming Problems into Happiness, Dear Lama Zopa and others available from Wisdom Publications, and many prayer and practice booklets available from the FPMT Foundation Store.
_______________________________________________________________________________________
Teachings from Lama Zopa Rinpoche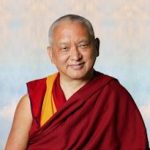 Lama Zopa Rinpoche gave this teaching at a refuge ceremony held at Kopan Monastery, Nepal, on April 1, 1995.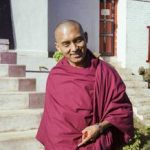 General advice paraphrased by Lama Zopa Rinpoche
In Search of a Meaningful Life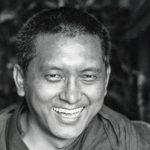 This teaching was given at Tushita Mahayana Meditation Center, New Delhi, on July 4, 1979.