His Eminence Dorje Chang Kyabje Kalu Rinpoche (1905-89) was born in Kham, Eastern Tibet. At the age of 15, he was sent to Palpung Monastery, where he mastered the vast body of Buddhist teachings and completed two three-year retreats. He began approximately 15 years of intensive solitary retreat in the remote mountainous areas of the Kham region at the age of 25, and later returned to become a retreat master, training many students.                                     
In 1962, Kalu Rinpoche went to Darjeeling, India, where he established his own monastery and retreat center, Samdrup Darjay Choling Monastery. Upon the request of his Holiness the 16th Karmapa, Kalu Rinpoche made the first of many trips to the West in 1971. During his life, he established a large number of meditation and retreat centers around the world. H. E. Kalu Rinpoche passed away in Darjeeling, India, on May 10, 1989.
_______________________________________________________________________________________
Teachings from His Eminence Kalu Rinpoche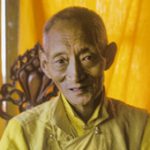 A talk by His Eminence Kalu Rinpoche about the four Tibetan traditions.